Bethel Assembly of God in Perrysburg, Ohio Welcomes New Pastor….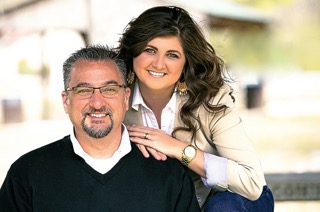 Kevin Starr has a passionate desire for God's word and a move of the Spirit in these last, desperate days in which we live. At an early age, he received a call to ministry at youth camp one summer. He left Ohio for a while to follow what he thought was a career path for himself. After spending a number of years running from that call, the Lord pressed him in 1993 that he should yield. During that conversation with God, the Lord told him that he could keep on the path he was walking or he could accept the call and the work in which the Lord desired for him to do. He accepted with honor and humility that day and has never looked back.
As is his nature, he immediately wanted to get into ministry in any capacity. He began work in his local church. He discovered through God ordained appointments that there was a school of ministry opening in Pensacola, Fl as a result of the salvations taking place during the Brownsville Revival. The Lord impressed upon him that this was the place he was to receive his ministry education. Through experience in both formal education and the "life of hard knocks", Kevin has become a man who is led by Holy Spirit with a passion to see those around him impacted by the power of God. He also desires to teach them in Word and deed, train them to find God's call and plan for their lives, activate them into ministry, and release them to do that which God has called them to do!
As the shepherd of God's flock, Pastor Kevin Starr nurtures spiritual growth through preaching and teaching that taps into the promises and power of God's Word. Church should be a family with the love of God and the overflowing anointing of Holy Spirit. Pastor Kevin pastors with these principals in mind. He is excited about helping you grow spiritually through practical biblical teaching and exhortation designed to meet your specific needs.
Upon graduating the Brownsville Revival School of Ministry (BRSM), Kevin went to work for Evangelist Steve Hill as Product Manager. He accepted his first pastorate in Evergreen, AL in 1999. After senior pastoring, the Lord called him to serve Pastor John Kilpatrick at Brownsville Assembly as the Young Families/Associate Pastor. The Lord later opened the door to pastor Leeds First Assembly of God in Feb 2003 which later became WellSpring Worship Center. As a hometown boy and graduate of Maumee High School, the Lord has now led Pastor Kevin and his family back to Perrysburg to pastor Bethel Assembly of God. It is an honor to serve a church family that has been so instrumental in developing the spiritual man of God that he is today!
Bethel Assembly of God
665 W. Indiana Ave.
Perrysburg, OH 43551
419-874-2255
Sunday School at 9:00 am & Worship at 10:00 am