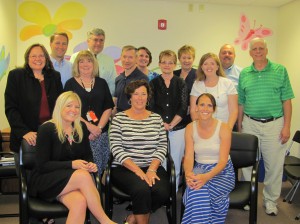 2014-15 Board of Trustees
President of the board is Marianne Knitz. A Hillsdale resident, Mrs. Knitz is with Alignment Supplies located in Maumee.
Vice president is Maumee resident Amanda Geletka who is with Brooks Insurance. Secretary is Sylvania resident Elizabeth LaValley who is with LaValley, LaValley, Todak & Schaefer. Treasurer is Holland resident Rich Hoover who is with Libbey Glass. Past President is Grand Rapids resident Cari Jennings who is with Huntington Bank.
New to the board this year are Maumee resident Brady Fineske with TDC Companies; Maumee resident Laura McIntyre with Welles Bowen; and Holland resident Mary Pope with the Toledo Clinic.
Returning board members are Toledo resident Rusty Belcher (Cinemark); Waterville residents Ron Finn & Harvey Popovich MD (Physician Healthcare Consulting); Maumee resident Ann Frahn (Mercy St. Charles); Curtice resident Diana Skaff (Wells Fargo Advisors); Holland residents Nadine Furey (Caring for Kids) and Rev. Dan Zak; Sylvania resident Kate Kelly; and Whitehouse resident Kathy Lieser.
Heartbeat of Toledo is a pregnancy support center that has been in existence since 1971. Its mission is to be the best source of information and support to women facing unplanned pregnancies and to help moms, dads, and babies in need. Heartbeat offers free pregnancy tests and ultrasounds; options counseling; prenatal and parenting classes; and emergency assistance. Parents have the opportunity to earn free baby items for every class they complete. All services are free and confidential.
Heartbeat is located at 4041 W. Sylvania Ave., Suite LL4 in Toledo, across from Franklin Park Mall. It also has a satellite office named Your First Look, which is located at 101 Main St. in East Toledo.