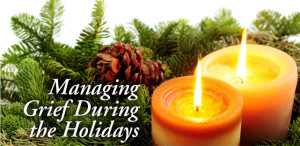 It's a beautiful time of the year: our world around is changing with the vivid colors of fall and the cool, crisp temperatures that give way. With all the changes that the end of October brings upon us, we find ourselves in what I refer to as a different "life mode". We enter season that embraces and celebrates the family more than any other time of the year. This season can be a wonderful time, as we traditionally celebrate the harvest with gratitude during Thanksgiving. Then, an already busy and fast-paced life seems to accelerate to an even faster speed all the way into the beginning of January.
Many people, however, find themselves in the midst of the most difficult time of the year. With all the family memories, traditions and celebrations, they are left being reminded of such a great feeling of loss and grief. Their family celebrations look completely different to them, and they cannot recreate the way "things used to be". To be honest, many people are dreading this upcoming holiday season because they have lost someone very close to them, and the absence of their loved one is more pain than they wish to bear.
Maybe you have lost a loved one just this year. Or, maybe it's been 2, 5 or even 15 years since your life changed with the death of a close family member. If this is your story, there is hope available to you.
From the makers of Grief Share, there is a 2 hour workshop called "Surviving the Holidays" that will be held on Sunday, November 22, 2015 from 2:30-4:30pm at Compelled Church, address in Bedford Township.